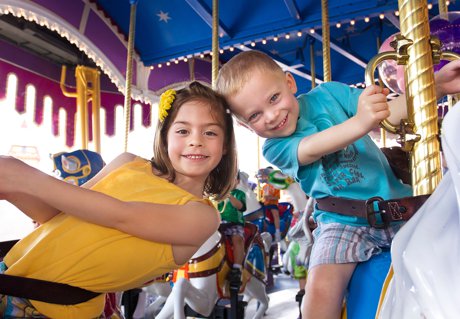 Little ones living in Concord laugh all day at Pixieland Amusement Park. Designed just for the youngest of residents, this place of play has pint sized rides, open spaces for running around and places to relax and grab a bite to eat.
It's all about the Pixieland Express. Kids love to ride the rails and this fun train chugs all about the grounds. Hear the whistle blow and get ready to board. This is the little engine that could! Adventurous spirits float to the skies with Red Baron Airplanes. The wind takes them up and down and around their course causing them to gleefully cry out for more. Windy Grove cars travel the roads of a make believe city. Two steering wheels per car allow for everyone to have a turn taking the wheel. Those seeking a bit of action head over to the Dragon Roller Coaster. Twisting and turning and moving fast this ride is exhilarating and fulfills the need for speed. Around the corner brightly colored tea cups spin round and round. Nearby the old fashioned carousel also turns in circles. Kids find their favorite horse and saddle up. Parents of riders not quite tall enough can stand alongside their tiny cowboys and cowgirls.
Birthdays Are a Blast on Concord Property
The merriment may stop when hunger strikes but there's no cause for worry. The Kids Cafe has a family friendly menu designed to create smiles. Tummies will be satisfied with hamburgers, chicken strips, corn dogs, nachos, chili cheese fries and more. Sweet treats are just right and include cotton candy, snow cones, funnel cakes and candy.
Birthday boys and girls living in Concord have wishes come true at Pixieland. Party packages make planning a breeze for moms and dads. A variety of packages suit all budgets and include private spaces to eat and open presents. Friendly staff members are on hand. Seasonal events are extra special on this Concord property. Easter egg hunts, trick or treat candy grabs and other holiday fun are popular with visitors. Hours to the park are seasonal and can be found on the calendar.